India has got its first underwater restaurant in Ahmedabad, giving a new experience to food lovers. According to reports, the restaurant – The Real Poseidon – has a dining area which has been created 20 feet below ground level.
Run by Ahmedabad-based businessman, Bharat Bhatt, the 32-seater restaurant serves a range of cuisine, which includes Thai, Mexican and Indian Food. Though the restaurant will only cater to the vegetarian palate.
The unique restaurant will be 20-feet below the ground level and is covered with a huge aquarium which has 1,60,000 litres of water. The aquarium is filled with around 4000 different species of fishes in it.
Source: CNN-IBN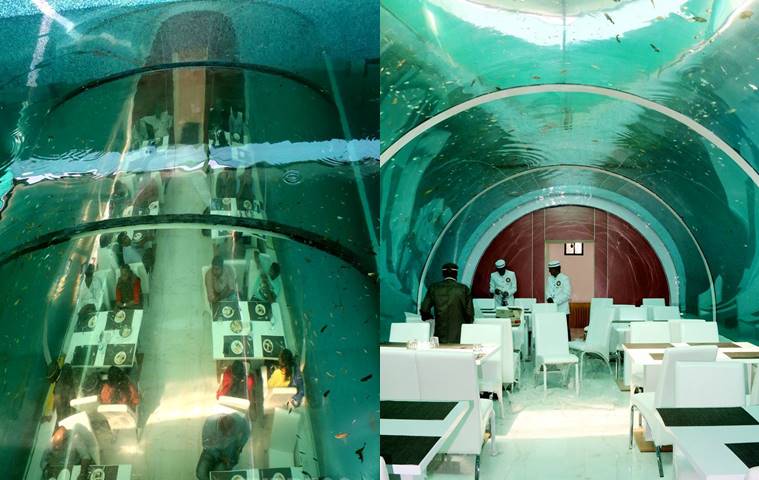 (The Real Poseidon's dining area is 20ft below ground level and has 32 covers. (Source: Express photo by Javed Raja) – See more at: http://indianexpress.com/article/lifestyle/food-wine/dine-under-water-at-this-unique-restaurant-in-ahmedabad/#sthash.wTwGloZ5.dpuf)
February will see Amdavadis have a new place to dock their palates, with an underwater restaurant making its way into the city's culinary landscape. Or should someone say, waterscape? Opening on February 1, in the South Bopal area, the unique restaurant has already garnered 150-odd bookings for the opening day through radio, online and print promotions.
Called The Real Poseidon, the dining area has been created 20ft below ground level and is run by Ahmedabad-based businessman Bharat Bhatt, who owns an engineering unit and is also into construction. "I had been part of building a restaurant back in 2004-05 and had been toying with this idea to float a restaurant with a novel concept since several years. Once we decided on this concept and we were sure it could be done, we started work on it," says Bhatt. Plush with 150,000 litres of water that is revitalised with a filtration tank on the 3,000 sq. ft property, the restaurant features around 4,000 fish and marine species sourced from local markets in Ahmedabad, Rajkot and Vadodara. For those concerned about the available dishes at the restaurant (read: eating seafood while being surrounded by fish), then worry not. The multicuisine, 32-seater restaurant does offer Punjabi, Thai, Chinese and Mexican fare, but it's all vegetarian.
While the concept and design took several months to finalise, Bhatt spent a whopping Rs 2 crore on the construction, which took two years. "Guests need only take the stairs down to a tunnel-based dining hall of 1,200 sq ft, where they can dine while enjoying the view. While there could be aquarium-based restaurants in Surat, we feel this is the first underwater restaurant in the city," says Bhatt who runs the The Real Poseidon with his wife Varsha. The duo is also planning a live orchestra/band for their diners' entertainment in the near future.
Source: The Indian Express, Written by Lakshmi Ajay | Ahmedabad | Published:January 31, 2016 11:30 pm
Address :
Real Poseidon Under Water Restaurant
456, South Bopal Corner, Sardar Patel Ring Rd, South Bopal, Bopal, Ahmedabad, Gujarat 380058